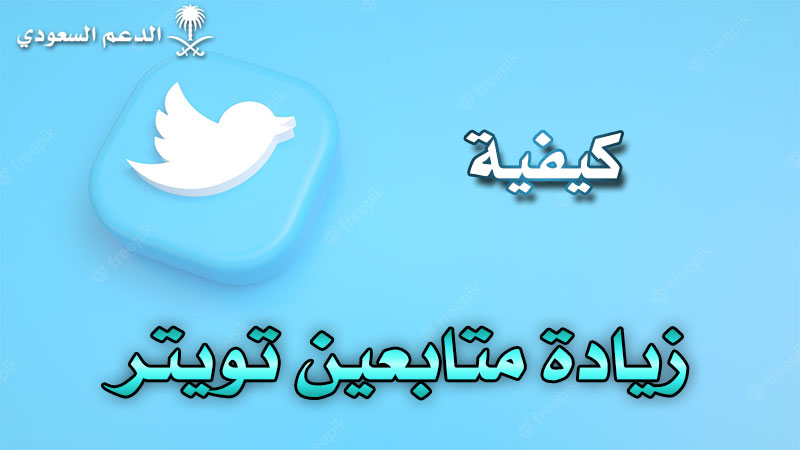 How to increase Twitter followers
How to increase Twitter followers is a question that many users of the Twitter platform ask, for many reasons, including those who run a company and want to know many users about their company and their products and make a name for the company in front of many, and some of them want to earn some money by advertising the products of some companies, and some of them Wants to display content to Twitter users for the benefit, all of these reasons need to increase Twitter followers, and in this article we will provide you with the most important real ways that enable you to increase followers.
How to increase Twitter followers
You can increase Twitter followers on the Twitter platform when you create an effective profile that attracts new followers. This is done by following some steps that can be accomplished in the following:
Create a real personal profile that contains your basic data, showing the type of work, the field you specialize in, your affiliation with the company you work in, your real name and your real age, so that followers know about the person they are following, because this is the first thing the follower searches for when entering your personal page.
The second step is to create a clear, high-quality image of yourself.
Put a detailed description of your profile and the field you will publish about or your profile talks about. Do you provide comedy content, technical content, or self-development content, and so on.
Try to display your content through photos and videos, as recent research has shown that people who use photos and videos to present their content on Twitter are the most followers.
Try to be a social person and interact with your followers when commenting, liking and sending messages. Contrary to what many think that you should not interact with them constantly, it is better to interact with as many of them as possible so that they recommend your profile to other followers.
Create new things that make you stand out in your field, as many followers are attracted to the person who offers unique things from others in that field, so put and submit new content and tweet some words that describe this new content.
The first impression on your profile is what attracts the new follower to follow you as well, and you can do this by pinning the most interactive posts at the top of your profile.
It is possible that you publish new content outside the field of writing a change at some time. For example, if the content you provide is technical and technology content, you can provide some comic tweets from time to time to attract a lot of new followers.
When there is a new trap always try to spread in the trend to appear more to new followers.
Take care of the network, your relationships on the Twitter platform, in this is one of the most important factors that lead to a real increase in followers.
Increasing Twitter followers without getting tired
The idea of ​​increasing Twitter followers on the Twitter platform without any fatigue is an unreal idea, because in most cases this is in illegal ways that lead to the loss of the entire account by the founder of the Twitter platform, so it is necessary to use some legitimate and legal methods through which to increase the number of followers and reach Thousands, either buying from a website or from an honest and genuine program, paid or free, or through the formation of a professional profile that attracts many users to your account, and all of these methods do not perform the supply process, but rather help in obtaining new followers.
Benefits of getting real twitter followers
Increasing real Twitter followers on the Twitter platform It is necessary to follow real methods and their actions as we mentioned earlier, but what is the benefit that accrues to you when you provide your followers on Twitter and how do I increase my followers on Twitter, there are many benefits that accrue to you that you can benefit from when increasing your followers on Twitter Twitter including the following:
You can earn a lot of money from increasing Twitter followers, but not the Twitter platform that gives you money, but when you increase the number of followers, you can offer products to some companies and offer them for followers to buy and thus you can earn money from the manufacturer.
Twitter is easy to use and therefore you can easily do marketing on it when you increase the number of your followers.
If you are a company and your account on Twitter is a company account, you can communicate with a large number of customers and present the company's products to them and announce all the company's business to them so that many successes can be achieved through that advertisement.
Twitter is distinguished from other social media platforms such as Facebook, Instagram and LinkedIn in that it presents content in a short form only within 280 characters, the advertisement ends and this attracts many customers.
Twitter followers increase program
In order to be able to work on the Twitter platform and earn money, it is necessary to increase the number of followers, and there are some programs specialized in increasing Twitter followers, how do I increase my Twitter followers? We will provide you with the best programs specialized in increasing Twitter followers:
manage flitter program: This program is unique, it mixes all your followers and determines you the real active followers and the inactive fake followers in order to increase your real followers.
Hootsuite: One of the best marketing programs that manage entire social media platforms, not just the Twitter platform. This program offers you many advantages such as monitoring mentions, tweets schedule, and displaying some guides that enable you to increase your audience and followers on the Twitter platform, and you can also manage more From one account at a time, this program needs some money to provide a system that runs on it, requirements start from $ 19 per month and can reach up to $ 599 if you own a company that manages its account.
Tweepi program: It is a program affiliated to the Twitter platform. This program works by relying on artificial intelligence to help you develop your followers. This program determines the followers that you follow and they do not follow you, and also classifies the friends you follow and they follow you as well, and therefore you will be able to send messages To the followers who did not follow back to you, or it is possible to unfollow them as well, this program offers you plans and strategies in exchange for some dollars that will enable you to develop your account on Twitter and target a number of more followers.
Free twitter followers website
In addition to the programs we mentioned that help you manage your Twitter account and target a larger number of followers, there are also some sites through which you can do this work and increase the number of your followers on Twitter, but how do I increase my Twitter followers through sites, one of the most important of these sites is a site Social Auto.
Social Auto is one of the most famous sites specialized in increasing the number of followers on social media platforms. Many celebrities depend on this site, as this site provides a large number of followers in record time for some money, and many can buy that services, because their prices are reduced as well. This site provides technical support for purchases.
Now we know how to increase Twitter followers, you can take advantage of all these ways to provide your account with many followers and build a professional profile on the Twitter platform by following you, for all the tips we gave you, either by self-reliance or by using some of the programs or sites that we mentioned.